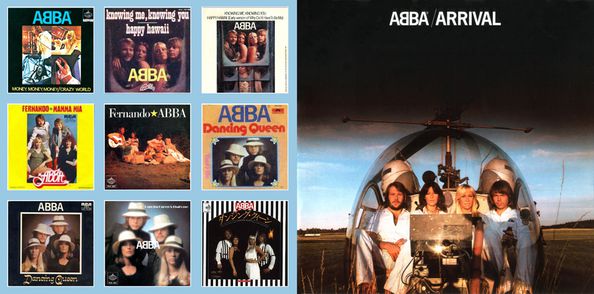 Albumtracks:

01) When I Kissed The Teacher
02) Dancing Queen
03) My Love, My Life
04) Dum Dum Diddle
05) Knowing Me, Knowing You
06) Money, Money, Money
07) That's Me
08) Why Did It Have To Be Me
09) Tiger
10) Arrival

Bonustracks:

11) Fernando (single a-side)
12) Happy Hawaii (single b-side)
13) Fernando (swedish version from Frida's solo album)


The restoration work on their 1976 album tooks the most time of all albums...especially the well-known drop-out on "Dancing Queen" (more details below). I used the following sources to compile my personal version:

- Arrival (Astley / Tretow Remasters, 1997)
- Arrival (Polydor original pressing)
- The Singles 1972-1982 (Astley / Tretow Remasters, 1999)

Believe it or not - the 1997 remaster was the best possible source again !!! I also checked the first edition, released on Polydor in the eighties, but I missed some clarity in the sound and as I remember, there were some small drop-outs and some hiss.

"When I Kissed The Teacher" starts with the guitar and on all versions I heard, you could recognize a small dropout in the second chord (sounds like a very small damage on the mastertape). I restored it to perfection.

And now I have to talk about the biggest restoration work...the disturbing drop-out on "Dancing Queen"...!!!
As a fan (and collector) I have heard many different versions of the "Arrival" album and a lot of compilation CDs. The drop-out was a result of cutting out a complete verse from the original multitrack tape, so it was unfortunately destroyed forever and included on all versions since the very first release back in 1976.

In 1997, Astley and Tretow did a very hurry and simply bad job to restore the drop-out. It would be better they never did, cause now you can realize clearly that there was a part to repair...they just copied a part from another refrain and pasted it into the damaged part...it sounds terrible and I am sure some hobby sound engineers could do a better job in a few minutes (or seconds ???).

When the 2001 editions arrived, I was full of expectation if they corrected their simply lousy work...but it was the same thing as on the 1997 versions, but with much more noise reduction added to all tracks and a higher level to make the entire thing sound more "modern"...no words necessary...

In 2005, "The Complete Studio Recordings" was released and the first track I checked was "Dancing Queen"...either Johnsson did exactly the same restoration job as Astley and Tretow did or he simply used the restored 1997 version for his new remaster...I was in rage about that bad editing and I decided to try to make it perfect - this was the main reason for me to start the entire restoration project.

I was looking for the best sounding (and, of course, unedited) version of "Dancing Queen" to do my own restoration job. I checked some early compilation albums, the "Thank You For The Music" box set, "ABBA Gold" in its original version and many more...in the end I think I used the version included on the Polydor first pressing or the Tretow remaster from 1992...I am not sure, cause I was too euphoric to make notes when I was working on the restored versions in 2008.

I spent many hours to try different things with the drop-out...first I tried to figure out the mistake in the wave form to create volume curves, but it failed...it was not only the level who changed there, but also the entire frequency spectrum...mission impossible !!! Next step was to use another part for a different copy-and-paste thing, but it doesn't sound perfect at all...I tried countless versions, but after many hours, tired from working on this part, I leant back on my chair with a big smile in my face - I FINALLY DID IT !!!

See the picture - this is what I did: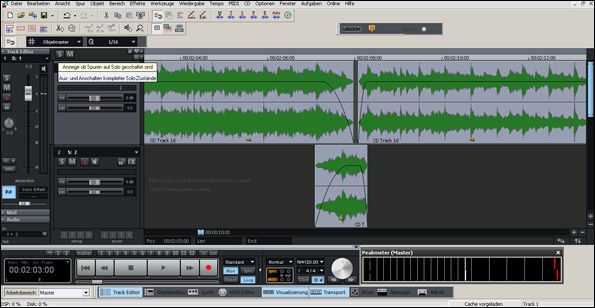 Instead of cutting out a complete piece of music, I decided to work with crossfades to avoid a listenable restoration job. For the part to paste I used a small piece from the last refrain and it worked amazingly !!! For sure, I was sitting a long time to set the right fade in and fade out on both wave forms, but in the end I created the most perfect version without hearing any adjustment !!! I am very proud about it and I simply can't understand why Astley, Tretow and Johnsson didn't spend more effort to make it better...

Here are the sound samples:

Original Polydor Version 1983:
link

Restored ABBAmaniac Version 2008:
link

Next step was to remove the well-known click in "Money, Money, Money" around the 0:33 mark ("...if I got me a CLICK wealthy man"). As I know, this little mistake is included on all available versions and was never restored before. It was not easy, but I did a very good job without injuring the information or quality of that part when I adjusted it.

Original Polydor Version (Japan 1986):
link

Restored ABBAmaniac Version 2008:
link

On all other tracks I had to filter some single clicks and pops and, of course, on "Arrival" the little scratching noise on the right channel around the 0:49 mark. It is also included on all versions I know (including the vinyl releases), but now it is done and clean forever.

Original Polydor Version:
link

Restored ABBAmaniac Version 2008:
link

in June 2011 I decided to add the swedish solo version of "Fernando", released originally on a Frida album. In 2008 I thought it has nothing really to do with ABBA, but I think they used the same backing track and when I got my Deluxe Edition of "Arrival", it was also part of the bonus section - so it should also be on my versions !!!