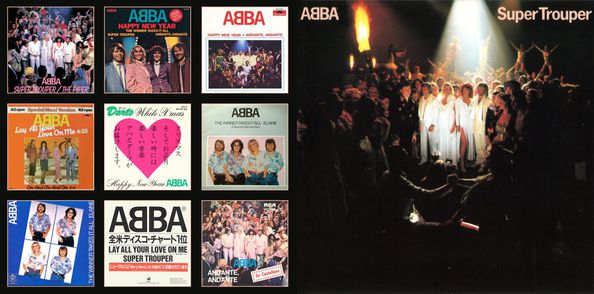 Albumtracks:

01) Super Trouper
02) The Winner Takes It All
03) On And On And On
04) Andante, Andante
05) Me And I
06) Happy New Year
07) Our Last Summer
08) The Piper
09) Lay All Your Love On Me
10) The Way Old Friends Do

Bonustracks:

11) Elaine (single b-side)
12) Put On Your White Sombrero (unreleased studio outtake)
13) On And On And On (full-length video version)
14) Lay All Your Love On Me (clean ending version)
15) The Way Old Friends Do (clean intro version)


To create my own restored version in 2008, I used the following sources to compile the tracks and work on it:

- Super Trouper (Astley / Tretow Remasters, 1997)
- Super Trouper (original Polydor pressing, 1983)
- The Complete Studio Recordings (Johnsson Remasters, 2005)


The first track "Super Trouper" suffers a little bit from a very quite listenable damage on the mastertape (same as the opening tracks on "Arrival" or "Voulez-Vous"), but unfortunately there was no way to fix it...but I can live with it, cause it is nearly not recognizable.

Whilst I used most tracks from the 1997 remasters again, I had to choose the last two tracks "Lay All Your Love On Me" and "The Way Old Friends Do" from the original Polydor CD, originally released in 1983. The reason was very simple: Astley and Tretow used separate mixdown tapes to compile the album from the best possible sources, so the audience between both tracks was not included on the 1997 versions.

In 2011, when I worked again on some tracks, I checked the entire album and decided nothing more to, except to use the stereo recording of the full-length version of "On And On And On", released on the Deluxe Edition some weeks ago. The version I included on my 2008 restored masters was used from "The Complete Studio Recordings", where it was included in mono. I also used "Elaine" from the Deluxe Edition, cause it sounds much more organic than the version I used in 2008. I recognized small distortions on the voices and compared the track with all other available versions, but there is no better source out there...

When I decided to use the Deluxe Edition full-length version of "On And On And On", I discovered a small drop-out around the 3:31 mark. It was not hard to fix it - I used that very small piece from the album version to copy and paste it, cause the same part on the regular album version doesn't have that drop-out. I did also a remastering of the track, cause I am not really satisfied with the sound on the Deluxe Edition...

Here is the sample:

Original 2011 Deluxe Edition:
link

Restored ABBAmaniac Version 2011:
link

The rest of the tracks were okay, except some hardly audible clicks sometimes and I finished my work on it very fast.