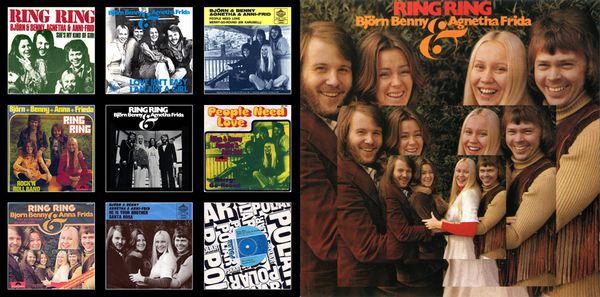 Albumtracks:

01) Ring, Ring (Bara Du Slog En Signal)
02) Another Town, Another Train
03) Disillusion
04) People Need Love
05) I Saw It In The Mirror
06) Nina, Pretty Ballerina
07) Love Isn't Easy (But It Sure Is Hard Enough)
08) Me And Bobby And Bobby's Brother
09) He Is Your Brother
10) Ring, Ring (english version)
11) I'm Just A Girl
12) Rock'n'Roll Band

Bonustracks:

13) She's My Kind Of Girl (single b-side)
14) Merry-Go-Round (single b-side)
15) Santa Rosa (single b-side)
16) Ah, Vilka Tider (single b-side)
17) Wer Im Wartesaal Der Liebe Steht (single b-side)
18) Ring, Ring (german version, single a-side)


Let's start in chronological order.
The first restored album was their debut from 1973. For the restoration project I decided to use the following sources:

- Ring Ring (Astley / Tretow Remasters, 1997)
- The Singles 1972-1982 (Astley / Tretow Remasters, 1999)
- Thank You For The Music (Tretow Remasters, 1994)
- The Complete Singles Collection (Astley / Tretow Remasters, 1999)
- Pa Svenska (Polar 1994)

In 2011 I used the following sources to replace "Disillusion" and "I Saw It In The Mirror":

- Ring Ring (german Polydor first pressing

The reason was too much noise reduction on the Astley / Tretow versions. I don't care about tape hiss - most times it is better than a damaged treble spectrum after working with a denoiser.

I checked also the highly recommended "The Complete Studio Recordings" box set, but to my ears the mastering is too loud and in some parts you can recognize the limiter, especially on deep frequencies like bassdrums etc...The 1988 Polar pressing was too muddy, so I decided to do the final work on "Ring Ring" using the first pressing on Polydor.

As you can see on the tracklist below, I added some bonustracks from the same time the album was recorded and released to make it essential.

At first, some of the audiophiles will shake their heads about the 1997 remasters I used partially, but believe me, not all of them are terrible !!! For example, most of the tracks on "Ring Ring" are the most clean and bright versions ever released on CD !!! When Astley and Tretow decided to remaster the entire back catalogue of ABBA in 1997, they didn't use the regular LP cutting masters, but the original mixdown tapes, so we have very low generation copies (or simply the real ones) of the recordings here.

I also read that many fans and listeners think that the 1997 remasters sound too flat, but if you compare these versions with the original vinyl albums from the seventies, they sound very similar and my intention was to create things close to the originals.

Some tracks on my version are taken from the 1997 version, whilst others (where the noise reduction, used by Astley and Tretow, was too strong for my ears) came from the 1994 remasters, taken from the "Thank You For The Music" box set and in 2011, when I reworked the entire thing, from the german Polydor first pressing.

Believe me - it's not a simple job to compile all the material without changing some equalization or the final level, cause in the end it must sound like taken from one source only - the best possible source !!! I think I did it very well and I am proud about the final result.

Besides the partially remastering job, the main intention was to restore the entire material to make it sound perfect with headphones. I listened to the tracks many times and filtered out some small clicks you could hear in some parts very quiet. A regular listener seems to be unable to recognize the things I did here, but my ears are very good and I tell you the material is clean as never before !!!

Remember - the old albums were recorded on regular reel-to-reel machines. Each tape has very small drop-outs here and there and don't forget the age of the source material when the tracks were first released in CD format, so I had to restore some little parts. It wasn't an easy or hurry copy-and-paste job...each small drop-out was analyzed, before I decided what to do with it.

In the end I created a simply perfect version of their debut album, including all other available material from their early days as a bonus section.

A few last words about the track "She's My Kind Of Girl", original released outside scandinavia instead of the swedish "Ring Ring" version (and, of course, as an early single b-side): This is the only mono recording, available on any ABBA album. On some forums you can read, that some versions have a fake-stereo-effect on it to make it sound bigger, but that's not true...the song is included on all versions I know as a real mono version, same as here.