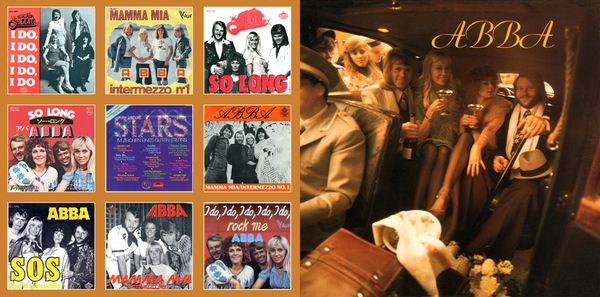 Albumtracks:

01) Mamma Mia
02) Hey, Hey Helen
03) Tropical Loveland
04) S.O.S.
05) Man In The Middle
06) Bang-A-Boomerang
07) I Do, I Do, I Do, I Do, I Do
08) Rock Me
09) Intermezzo No.1
10) I've Been Waiting For You
11) So Long

Bonustracks:

12) Crazy World (single b-side)
13) Medley: Pick A Bale Of Cotton - On Top Of Old Smokey - Midnight Special (compilation track)
14) Man In The Middle (alternative mix)
15) S.O.S. (swedish version from Agnetha's solo album)


The third thing I restored was the 1975 album. The following sources were used:

- ABBA (Astley / Tretow Remasters, 1997)
- ABBA (Polar 1988)
- The Love Songs (Pickwick 1989)
- The Complete Studio Recordings (Johnsson Remasters, 2005)

I also had the chance to use the Polydor pressing, but it suffers from lots of hiss (same as on "Ring Ring" and "Waterloo") and I decided to work mostly with the 1997 remasters.

Unfortunately, back in 2008 I had no chance to check the original Polar pressing from Sweden, mentioned by some audiophiles as the best sounding version on CD.

In 2011 I got a copy of the Polar release and decided to interchange the tracks "Mamma Mia" and "S.O.S." because of too excessive noise reduction, used on the 1997 remasters.

When I listened to the original Polar CD from 1988 or the Pickwick compilation CD "The Love Songs" (1989), I recognized a short guitar amp noise before the song "So Long" starts...it was cutted by Astley and Tretow in 1997 and I decided to put it on the song to make it more complete.

As a special bonus I added the alternative mix of "Man In The Middle", included only on the Polydor Japan version 1986. The main mix is exactly the same, but in the last part of the song you can hear the differences. The regular version includes a short robot effect on Björn's voice, but the track used on the Japan-CD doesn't have it.

One more time I did the same as on the previous albums - compiling the best sounding versions, filtering some clicks and pops and adjusting the frequencies and levels for the tracks I used from different sources. To my ears, this version is absolutely great and doesn't include any annoying things.

In 2011 I decided to add the swedish version of "S.O.S.", originally released on an Agnetha solo album in 1975, to the bonus section of my version, because the backing track was recorded by the ABBA musicians and this is the only reason that it should be a part of my reworked versions.